In a television interview in April with Fox News, U.S. Sen. Ron Johnson, R-Wis., emphasized a need for more help to patrol the United States' southern border with Mexico.
Johnson, who is chairman of the Senate Homeland Security Committee, said, "We do need increased manpower. Part of our problem is our attrition rate is higher than our hiring rate, so we don't have the number of Border Patrol agents. So I think that's one of the reasons that's really prompted the president to call up the National Guard."
The issue he referred to was President Donald Trump's recent request to send up to 4,000 National Guard troops to the southern border to help the Border Patrol curb illegal immigration and stop drug smugglers.
Johnson's office did not return a request for the source for his claims. The Observatory decided to take its own look at those questions: Does the Border Patrol need more agents? And, does the agency suffer from high attrition?
Do we need more agents?

In January 2017, Trump signed two executive orders demanding 5,000 additional Customs and Border Protection agents and another 10,000 Immigration and Customs Enforcement agents.
But a July report produced by the Inspector General's Office for the Department of Homeland Security questioned whether the department has the ability to "quickly and effectively hire a highly qualified and diverse workforce."
In addition, "Neither CBP nor ICE could provide complete data to support the operational need or deployment strategies for the additional 15,000 additional agents and officers they were directed to hire," according to the report. "CBP officials explained they had been working for 3 to 4 years already, but are still 3 to 4 more years away from implementing a process to obtain and analyze accurate operational needs and deployment data.
"Without well-defined operational needs and comprehensive deployment strategies," the report continued, "DHS may not be able to achieve the correct number, type, and placement of personnel."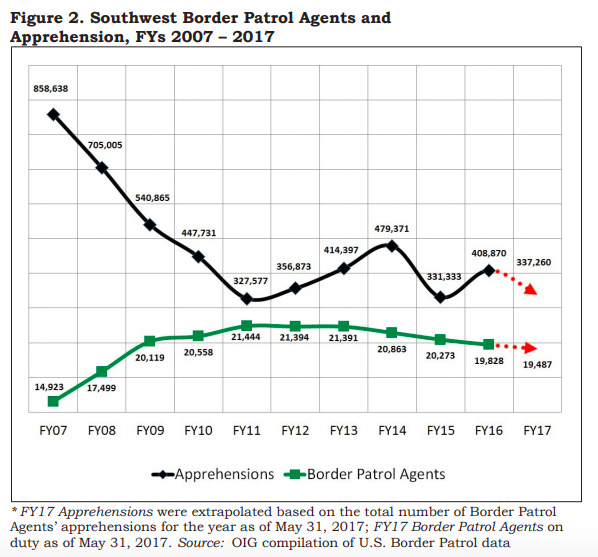 In November, the professional services corporation Accenture received a $297 million federal contract to hire the 5,000 CBP agents and 2,500 other officers and agents, according to the Los Angeles Times. Critics have noted that the contract amounts to $40,000 per job — or roughly a full year's pay for a starting agent.
The increased hiring goal also comes at a time when illegal crossings at the southwest border have hit their lowest mark since 1971, according to the U.S. Border Patrol. Officers apprehended 303,916 people at the border in fiscal year 2017, which is a 25 percent decrease from fiscal year 2016.
"The decrease in apprehensions is an element to consider in developing both short- and long-term operational needs documents and deployment strategies," the inspector general said.
Because of the reduced border crossings and questions from the DHS' own inspector general about the agency's lack of plans for how to deploy extra agents, we rate Johnson's claim about the need for more border agents as Unobservable.
What is the attrition rate for CBP agents?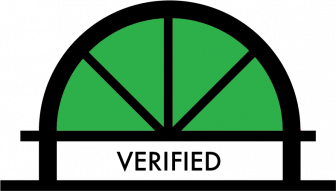 Attrition is the shrinking of the workforce by employees leaving and not being replaced. For the Customs and Border Protection, this appears to be true.
As of September 2017, the CBP had employed 19,400 agents, short of the congressionally mandated 21,370. A March 2018 CBP snapshot put employment of agents at 19,437 — still nearly 2,000 below the level mandated by Congress.
Between 2013 and 2016, the Border Patrol hired an average of 523 agents per year, while watching an average of 903 agents per year walk out the door. So, Johnson's claim that the Border Patrol has a high attrition rate is Verified.
Our rating
Johnson's claim that we need more manpower at our southern border is complicated because Johnson, the chairman of the Homeland Security Committee, believes we need more agents, but apprehensions at the border are at a 47-year low, and the DHS' Inspector General says the agency has no firm plans for how to deploy them. That makes the claim that the United States needs more people securing the border with Mexico as Unobservable.
But there is no doubt, based on Customs and Border Protection figures, that the agency does have a high attrition rate, as Johnson pointed out on Fox News. We rate that claim as Verified.
Sources
Sen. Ron Johnson, Fox News interview, April 6, 2018
Los Angeles Times, Border patrol losing agents faster than it can hire new ones, Nov. 11, 2017
Los Angeles Times, Government paying private firm $297 million to help hire 5,000 Border Patrol agents, Dec.17, 2017
The Hill, Pentagon says 2,000 troops on border to cost $182M, May, 3, 2018
PolitiFact, Is illegal immigration the lowest in 17 years, as Trump said?, April 25, 2017
NPR, Arrests For Illegal Border Crossings Hit 46-year Low, Dec. 5, 2017
U.S. Customs and Border Protection, Snapshot , March 2018
U.S. Immigration and Customs Enforcement, Fiscal Year 2017 ICE Enforcement and Removal Operations Report, 2017
Government Accountability Office Border Security: Progress and Challenges with the Use of Technology, Tactical Infrastructure, and Personnel to Secure the Southwest Border, March 15, 2018
Office of Inspector General Special Report: Challenges Facing DHS in Its Attempt to Hire 15,000 Border Patrol Agents and Immigration Officers, July 27, 2017
White House, Executive Order: Border Security and Immigration Enforcement Improvements, Jan. 25, 2017
White House, Executive Order, Enhancing Public Safety in the Interior of the United States, Jan. 25, 2017