In a tweet from Sept. 5, Democratic U.S. Sen. Tammy Baldwin addressed the challenging times dairy farmers are facing in Wisconsin and across the country.
"In the past year, Wisconsin lost 602 dairy farms," Baldwin tweeted. "That's why I'm working to make sure the final #FarmBill18 improves risk management tools for dairy farmers and gives them the tools they need to meet these challenging times."
Baldwin also said the 2018 Farm Bill supports dairy farmers, levels the playing field for organic farmers and gives more support to farmers in crisis.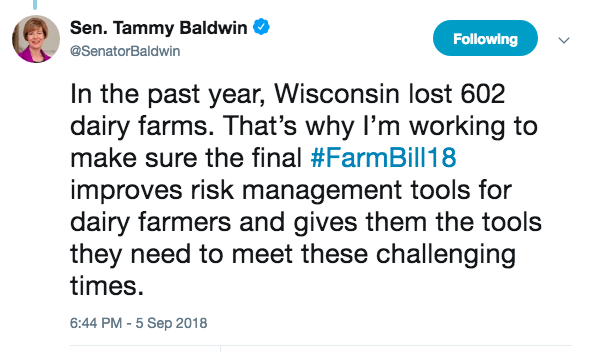 The Observatory decided to check these claims by Baldwin: that Wisconsin has lost 602 dairy farms in the past year and that what the 2018 Farm Bill promises is what dairy farmers actually need.
Baldwin's claim that Wisconsin lost 602 dairy farms in the last year was made in early September, making the most recent data she could have used from August.
In August, Wisconsin had 8,419 dairy farms, according to data from the U.S. Department of Agriculture. In August 2017, Wisconsin had 9,021 dairy farms. From August 2017 to August 2018, Wisconsin has in fact lost 602 dairy farms.
This is part of a longer term trend that appears to be worsening. Already in 2018, Wisconsin has lost almost 500 dairy farms, going from 8,801 in January to 8,304 in October. In the first 10 months of 2016 and 2017, Wisconsin lost 289 and 366 farms, respectively. Wisconsin is on pace to have its biggest loss in dairy farms since 2013, according to Wisconsin Public Radio.
The number of dairy farms closing picks up when milk prices are low and expenses are high, according to John Lucey, director of the Wisconsin Center for Dairy Research. Many farmers no longer feel like they can make a business out of selling their milk, he said.
Another factor is generational. As farmers get older, they have to see if someone from the family will take over the farm, Lucey said.
Despite this decline, Wisconsin's reputation as the dairy state isn't in danger, Lucey said.
"The trend will continue because the trend has been going on for decades," Lucey said. "But as the dairy state, we're still producing a lot of milk, and we have about 200 dairy plants making cheese and other dairy products. So Wisconsin still produces a lot, and our farms that are remaining are larger and more productive."
The Observatory rates Baldwin's first claim about how many dairy farms Wisconsin has lost as Verified.
Baldwin's second claim is focused on how the 2018 Farm Bill will help farmers in crisis by giving them access to insurance when milk prices are low and feed prices are high. Is this what farmers truly need?
Roughly every five years, Congress has to pass a new Farm Bill, which sets national agriculture, nutrition, conservation and forestry policy. This an omnibus bill, meaning it features different laws, amendments and bills within it. The current Farm Bill expired Sept. 30, although most of its provisions continue.
Mark Stephenson, University of Wisconsin-Madison's director of dairy policy analysis, believes Congress, with its new Democratic majority in the House, will wait until next year to pass the Farm Bill.
Historically, the bill has seen bipartisan support, but everything has become more partisan, including the Farm Bill, Stephenson said. The big issue this year has been with the Supplemental Nutrition Assistance Program, the national food assistance program known in Wisconsin as FoodShare.
Republicans believe SNAP should have stronger work-related requirements, but Democrats are less inclined to make this change because they believe people who need assistance could lose their benefits, Stephenson said.
Without a Farm Bill, a lot of the programs remain in effect. But the Margin Protection Program for Dairy — the insurance program that protects dairy farmers in times of low milk and high feed prices — would end at the end of 2018.
That program, which was implemented in the 2014 Farm Bill, is a voluntary benefit that pays dairy producers when their margins fall below a certain dollar amount, according to the USDA. For the 2018 Farm Bill, Congress is making some changes to the program to make it less costly for producers to participate, Stephenson said.
But unless Congress acts, the current program "would not continue past the end of the year," Stephenson said.
"It would have to be renewed through passage of a new Farm Bill, or Congress could pass a short-term continuing resolution (CR) to fund portions of the old Farm Bill. There is some interest in trying to pass the new Farm Bill during the lame duck session of Congress, in which case we would be implementing the replacement program for the MPP sometime after the start of the new year.
"Personally, I'm skeptical that they will get that done and will punt until the new Congress is seated."
That is not the only program in the Farm Bill designed to help dairy farmers. Among the more than 50 farmer-assistance programs in the bill are those that help with loans, provide information and tools necessary to make informed risk management decisions and help aspiring and retiring farmers.
Lucey and Stephenson agree that in the meantime without a Farm Bill in place, there is an increased risk for dairy farmers to continue doing their jobs.
"(Farmers are) facing increased market risks, maybe increased production risks, and weather patterns are becoming a more variable," Stephenson said. "The Farm Bill tries to address that for them."
But Stephenson said passage of a new Farm Bill is only a short-term solution to help farmers through low market prices. Long-term issues, such as the oversupply of milk, are not addressed.
The Wisconsin Center for Dairy Research is trying to discover medium- to long-term solutions by researching how to increase exports and create more demand for milk and dairy products, Lucey said.
"Fluid milk sales have been going down, but there are other types of beverages that have come on the market that can meet consumer demands," Lucey said. "We have to be a little bit less conservative in terms of our view of what kind of products to make and how to make them and embrace innovation because that's really what's going to bring returns back to farmers in terms of sustaining in the long-term."
According to experts, the Farm Bill does help farmers struggling with low milk prices — and the insurance program that supports them would end if the new bill is not enacted before the calendar year is over.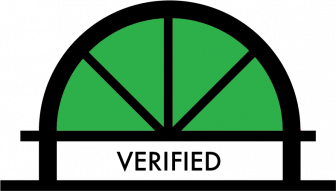 The Observatory rates Baldwin's second claim about the Farm Bill giving farmers "the tools they need to meet these challenging times" as Verified.   
Sources
Tweets from U.S. Sen. Tammy Baldwin, Sept. 5, 2018
U.S. Department of Agriculture, Number of Monthly Milk Cow Herds Wisconsin, 2004 to current
Wisconsin Public Radio, "Wisconsin On Pace to Hit Highest Loss of Dairy Farms in 4 Years," Sept. 13, 2018
U.S. Senate Committee on Agriculture, Nutrition and Forestry, 2018 Farm Bill
Farm Aid, Farm Bill 101, May 22, 2018
Interview with Wisconsin Center for Dairy Research director John Lucey, Oct. 12, 2018
Interview with University of Wisconsin-Madison Director for Policy Analysis Mark Stephenson, Oct. 17, 2018
Benefits.gov, Supplemental Nutrition Assistance Program
Benefits.gov, FoodShare Wisconsin
National Sustainable Agriculture Coalition, Farm Bill Programs & Grants — Overview
USDA, Margin Protection Program for Dairy