A little over two years after Wisconsin's broadband speed was ranked the second worst in the nation, lawmakers, including Wisconsin's Democratic Sen. Tammy Baldwin, are working to address long-standing issues in broadband access for rural communities.
In November, Baldwin and Sen. Joni Ernst, a Republican from Iowa, introduced the Access to Capital Creates Economic Strength and Supports (ACCESS) Rural America Act to provide regulatory relief for rural telecom providers, allowing them to submit streamlined financial reports to the Securities and Exchange Commission (SEC).  
Baldwin claims the cost of these disclosures is getting in the way of local providers being able to efficiently deploy broadband statewide, especially to rural Wisconsin. She also says these regulations were not intended to cover such small providers in the first place. The Observatory investigated whether this was true.
The Sarbanes-Oxley Act
In the early 2000s, some of America's biggest corporations, including Enron and WorldCom, were involved in highly-publicized corporate accounting scandals, revealing widespread financial fraud.
In November 2001, Enron was caught inflating its earnings by about $600 million, later filing bankruptcy. This came as a shock to the American public; Enron was the seventh largest company in the country and had been reporting extraordinary quarter-to-quarter numbers.
"As it turned out, Enron was the canary in the mineshaft. A number of very major public companies were relying on convoluted and often fraudulent accounting devices to inflate earnings, hide losses, and drive up their stock prices," then-U.S. Sen. Paul Sarbanes of Maryland, co-author of the Sarbanes-Oxley Act, explained in an interview with Fraud Magazine.
In an effort to protect investors and implement harsh penalties for dishonest corporate behavior, Sarbanes, a Democrat, and U.S. Rep. Michael Oxley, a Republican from Ohio, co-authored the Sarbanes-Oxley (SOX) Act. The bill, which aims primarily at publicly-traded companies, requires them to disclose their internal accounting controls and financial reporting procedures in annual financial reports. It also requires corporate executives to certify the accuracy of the reports or face severe personal penalties.
When President George W. Bush signed it into law in July 2002, he labeled it "the most far-reaching reforms of American business practices since the time of Franklin Delano Roosevelt." It was passed with a overwhelming bipartisan support, including a 99-0 vote in the Senate.
The intention behind the legislation, according to Sarbanes, was to establish a solid ethical framework for conducting business. SOX, he said, would be "the watchdogs of watchdogs."
A key focus of the law was to restore investor confidence.
"If you don't protect the interests of the investors, it deals a major blow to the workings of the economic system … The integrity of our capital markets is very important to the strength of our economy. The blow to investor confidence at the time of Enron and WorldCom was of major proportions," Sarbanes said in the Fraud Magazine interview.
Companies other than certain kinds of banks with 500 or more shareholders and $10 million or more in total assets must register with the SEC and comply with the requirements of Sarbanes-Oxley.
In the case of small local telecom providers, their shareholders are often community members, who exert their own oversight over the company. Complying with SOX, they say, costs money that would better be spent on expanding high-speed internet in their service areas.
Michael Romano, a senior vice president of the Rural Broadband Association, said companies like small rural telecoms were not a big concern when SOX was implemented. It was more for investors who worried about being defrauded.
John Klatt, CEO of Lakeland Communications LLC in Milltown, Wisconsin, said the federal oversight brought on by SOX is punishing his business and other small rural telecoms.
"It's a horrendous amount of regulation that's frankly unnecessary because we have a lot of local oversight. From a personal perspective I live within our service area, and I feel I have roughly 500 bosses as shareholders in our small community," Klatt said, adding his company is subject to "a fair share of checks and balances" that may not be in place in communities such as Madison, Minneapolis or New York City.
This regulatory cost comes on top of the "cost-intensive business of deploying and operating advanced fiber optic networks in high-cost rural areas," said the Rural Broadband Association, also known as the NTCA.
The cost of avoiding Sarbanes-Oxley
Wisconsin rural telecom companies such as Coon Valley Farmers Telephone Company are the sole providers of their communities, and a majority of their shareholders are community members. Shares are sometimes passed down and parceled out through generations of family, posing a problem with avoiding SEC scrutiny.
"They're splitting their shares into maybe five kids at a time, or however many kids they have, so each one gets so many shares," said Carol Ann Olson, Coon Valley's general manager. "It doesn't take long for it to keep increasing the number of shares we have. We've been telling our shareholders about it, but you can't tell them they can't give their shares to their children. So that becomes difficult."
Instead of focusing on improving TV, internet and phone services, Coon Valley Farmers Telephone Company has had to divert money and time to manage the shareholder threshold and track assets to stay under the threshold, she said.
"If we have to go into selling our stock publicly traded and have to do the audits and the extra work that has to be done, we won't be able to make it," Olson said. "So then somebody huge moves in, they won't always take care of their customers like we do."
Klatt said business decisions are being made based on avoiding Sarbanes-Oxley requirements rather than on the company's primary mission. His office calculated the company has lost $79,446 annually in avoidance costs — or $1.4 million dollars over 18 years.
That money could have been used for deploying around 20 miles of fiber, he said.
"We went way past the $10 million because of fiber optic and network deployment. So we've got one number to manage right now, and that's basically to keep shareholders below 500 because we don't want that annual ongoing expense," Klatt said, adding that the company has been forced to buy back millions in stock to avoid going over the limit.
Klatt said the cost of avoidance includes time he and other employees have taken to meet with the company's board of directors and educate  shareholders on the risks of exceeding the count limit, not to mention costs for airfare, hotel and other expenses of years of lobbying in Wisconsin and Washington against SOX.
Klatt isn't the only one feeling the effects. The law firm Foley and Lardner surveyed 93 public companies in 2007 on the effects of Sarbanes-Oxley and found companies across the United States were spending a lot of money on compliance. Companies with under $1 billion in revenue were estimated to be spending around $2.8 million a year complying with the law.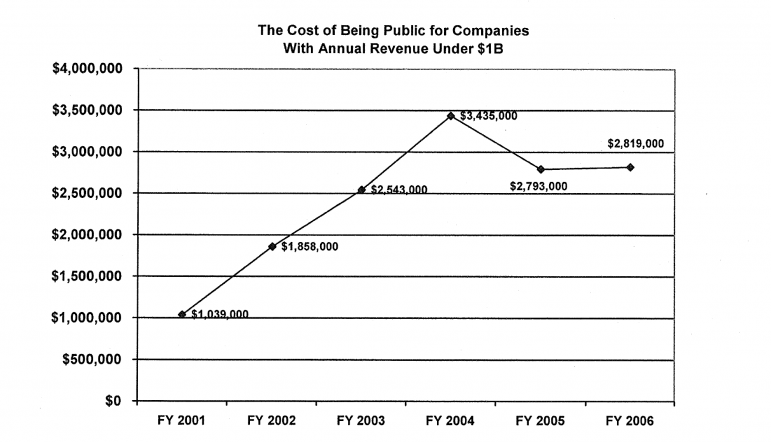 "There is clearly a desire within the business community to exempt smaller public companies from Section 404 of the Sarbanes-Oxley Act, the study stated. "Respondents were also relatively aggressive in their definition of 'smaller' public companies, believing that the threshold should be set at a $250M market cap and under."
There was some relief in the Jumpstart Our Business Startups (JOBS) Act in 2012, which sought to mitigate smaller companies' reporting requirements by increasing the registration shareholder threshold from 500 or more persons to either "(1) 2,000 or more accredited persons, or (2) 500 or more persons who are not accredited investors."
Shareholders in small rural companies are often community members, not accredited investors, who by definition must have more than $200,000 in income individually, $300,000 if married; or a personal net worth of over $1 million, excluding personal residence. So small rural businesses continued to have to comply with Sarbanes-Oxley.
The ACCESS Rural America Act
The ACCESS Rural America Act hopes to alleviate rural companies of costly SEC reporting by proposing an increase in the shareholder threshold from 500 to 1,250.
"Reliable high-speed broadband is critical to strengthening small businesses and neighborhoods throughout Wisconsin's rural communities," Baldwin said in a press release. "Our bipartisan legislation provides the regulatory relief that rural service providers need to build-out high-speed broadband in small communities and continue our efforts to bring broadband access for all — no matter where you live in Wisconsin."
NTCA backs the bill.
"We supported it because we have a number of members who have expressed concerns about the fact that they would have costs associated with compliance with these shareholder counts and asset thresholds and that that was basically consuming resources that they instead would spend on deployment of rural broadband," Romano said.
Barry Orton, emeritus professor of telecommunications at the University of Wisconsin-Madison, noted that it is unusual to have bipartisan support in Congress today. Orton said the proposal appears to be a good way to tackle the problem.
He calls the bill a "bank shot."
"In pool, when you're trying to get a hole in the pocket, a regular shot goes into a pocket but a bank shot goes into the side – it's not a direct shot. This bill is a bank shot – indirect and helps small companies that are trying to provide rural broadband to save some money on reporting on their fiscal situation. … It's indirectly helping them," Orton said.
If you asked Orton a more direct way to tackle the issue, it might be to allow small rural telecoms to pay less in taxes, provide funding to build fiber optic cables in rural areas or add money to existing programs to improve broadband access in rural Wisconsin.
"It's a small piece of a bigger problem, it takes a little bite out of it," Orton said.
The Observatory rates Baldwin's claim that local rural telecom providers are being hit by costly regulations never intended for them as Verified.
Sources
Fraud Magazine, An Interview with Sen. Paul S. Sarbanes, May/June 2007
The New York Times, Enron Admits to Overstating Profits by About $600 Million, Nov. 9, 2001.
NPR News, The Fall of Enron.
SearchCio, What is Sarbanes-Oxley Act (SOX), May 2018.
Statement, The Rural Broadband Association – NTCA, Relieving Registration Burdens on Small Community-Based Businesses.
Interview, Michael Romano, senior vice president of the Rural Broadband Association, Feb. 11, 2019.
Interview, John Klatt, CEO of Lakeland Communications LLC, Feb. 8, 2019.
Interview, Carol Ann Olson, general manager of Coon Valley Farmers Telephone Company, Feb. 27, 2019.
Interview, Barry Orton, emeritus professor of telecommunications at the University of Wisconsin-Madison, Feb. 26, 2019.
Foley & Lardner LLP, The Cost of Being Public in the Era of Sarbanes-Oxley, Aug. 2, 2007.