The discussion surrounding health care was at the forefront of the Wisconsin U.S. Senate race, and polls show it motivated many Wisconsinites to vote. Around half of all of the state's voters said health care is the most important issue facing the country.
During an Oct. 19 debate and in a tweet, Republican U.S. Senate candidate Leah Vukmir said 3.4 million people will be "thrown off their employer-based health insurance" under Medicare for All, a proposal co-sponsored by Democratic U.S. Sen. Tammy Baldwin. Vukmir lost to Baldwin in the Nov. 6 election.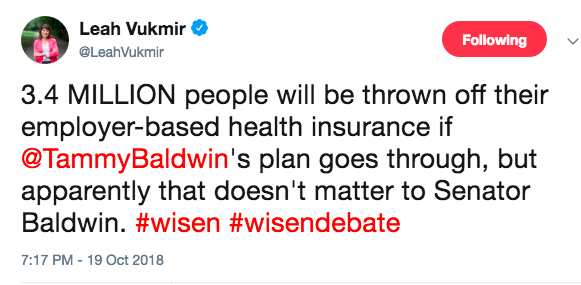 "I'm waiting for the media to come out and say, 'Look at this' and fact-check Senator Baldwin on this," Vukmir said during the debate.
The Observatory decided to take her up on the challenge.
The Medicare for All Act was introduced by U.S. Sen. Bernie Sanders, I-Vermont, in September 2017 as a way to ensure health care for every American. The proposal would create a universal single-payer health care program, making it so individuals received health insurance from the government versus private companies or other programs.
Under Medicare for All, these outside programs, such as employer-based health insurance, would be eliminated.
However, the people who would lose their employer-based coverage would then move over to a new plan, and have insurance under Medicare for All instead, said Donna Friedsam, a researcher and health policy programs director at University of Wisconsin-Madison's School of Medicine and Public Health. These individuals would most likely have new taxes but no more premiums.
Looking at the number Vukmir mentioned of how many people would lose insurance, Friedsam said she could not comment on it specifically since she had not seen it cited anywhere. Vukmir's campaign did not respond to requests for comment about where this statistic came from, however, a statement issued by Vukmir's campaign to WisPolitics explained where Vukmir got the number.
According to the Wisconsin Department of Health Services, about 3.4 million Wisconsinites have employer-based health insurance.
"There are different ideas or estimates about what the impacts of Medicare for All would be, but that bill is more of a symbolic gesture, and the details of how that would work have not been articulated," Friedsam said.
The "symbolic gesture" is that while some in Congress have endorsed universal health care, there's no way for the bill to move forward in the current political climate, she said. There also aren't provisions in the bill to fully explain how a Medicare for All program would work, Friedsam said.
Even with the Democrats winning the House, Medicare for All is unlikely to pass with Republicans controlling the Senate and the presidency, according to Forbes contributor Howard Gleckman. Because the legislation is not a priority in Congress, the nonpartisan Congressional Budget Office has not released any estimates on how many individuals would be impacted.
Friedsam said the topic of Medicare for All is a side conversation. What is more relevant is looking at what different politicians plan on doing to strengthen the existing system, such as the discussions surrounding pre-existing conditions and lowering health care costs.
During the debate, Vukmir made it sound as if 3.4 million people would lose health insurance under Medicare for All. In the statement to WisPolitics, however, Vukmir's campaign clarified that the 3.4 million people on employer-based health insurance would move over to a new government-run health care plan.  
So, Vukmir is right; 3.4 million people would lose their employer-sponsored health coverage. But she left out the key component — those 3.4 million people would continue to have health insurance under Medicare for All. For those reasons, we rate Vukmir's statement as Mostly True.
Sources
Milwaukee Journal Sentinel, Wisconsin U.S. Senate race: Tammy Baldwin, Leah Vukmir clash on health care, Sept. 4, 2018
Milwaukee Journal Sentinel, Wisconsin exit polls: loss of support among independents and college-educated voters has put Gov. Walker's re-election at risk, Nov. 6, 2018
WISN, Baldwin, Vukmir debate at Marquette University Law School, Oct. 19, 2018
Tweet from Republican U.S. Senate candidate Leah Vukmir, Oct. 19, 2018
Congress, Medicare for All Act of 2017
Bernie Sanders' campaign website, Medicare for All: Leaving No One Behind
The New York Times, How the Bernie Sanders Plan Would Both Beef Up and Slim Down Medicare, Sept. 13, 2017
The New York Times, How Medicare for All Would Affect You, Sept. 14, 2017
Interview with Donna Friedsam, researcher and health policy programs director at University of Wisconsin-Madison's School of Medicine and Public Health, Oct. 30, 2018
Forbes, Democrats Have Won The House. What Will They Do About Medicare For All?, Nov. 7, 2018
The Hill, Why CBO won't estimate cost of Bernie Sanders's 'Medicare for All' bill, Aug. 29, 2018
WisPolitics, Vukmir campaign: 3.4 million Wisconsinites to lose employer health insurance under BaldwinCare